Of the nearly 23 weeks I spent on the Appalachian Trail, this was one of the most exciting.  I was hours from the Mason-Dixon Line, where I'd exit Maryland and enter Pennsylvania, marking my passage from The South to The North.  A few days earlier, I had crossed the 1,000-mile threshold and — while I was struggling through intense rain and the monumental chafing of my nether parts — it was hard not to feel good about having just walked 1,000 miles.  I had also just taken a few days off with friends in Washington D.C. for the 4th of July, and was going to see a few more as I made my way through Pennsylvania.  This was fun!  (Besides the chafing.)
A few miles before leaving Maryland, there was one last viewpoint: High Rock.  It was a few minutes off the trail, and I was thinking of skipping it, but I'm a sucker for a good overlook.  I made the hard-right and followed the new trail.
Considering how close it gets to towns, the AT is surprisingly void of trash.  This side trail was not.  As I approached High Rock, there were broken beer bottles, abandoned trash bags, and paper stuck in tree branches.  High Rock, itself, was covered in graffiti, so haphazardly, and by so many different people — jerks; bored kids, probably.
I ascended the tagged, crumbling staircase, and then saw something different and unexpected: a slab platform, covered in a thousand designs by a thousand artists in a thousand colors.  A creator with a spray can, painting alongside another from a half-century earlier.  If there was a rhyme or reason to the designs, I still couldn't make it out, but I think that's what made it beautiful to me.  The density made it beautiful.
A rock this large covered in so many colors.  I wouldn't want every overlook to be painted like this, but after seeing hundreds of pristine viewpoints, I'm glad this one was unique.
And then the view took over.  In front of me I could see the town of Waynesboro, PA and the Cumberland Valley, dotted with the well-tilled patterns of farm after farm.  A few minutes ago, sitting on my couch, I read High Rock was once a favorite launch point for hang gliders, and that — many years earlier — the Cumberland Valley hosted George Washington and his Continental Army, and, later, Fort Couch, quickly erected by newly-freed African American soldiers to defend Carlisle, PA from an advancing Confederate Army.
But, as I ate my spam-filled tortilla, I didn't know any of this.  It was just beautiful.
Lunch was over and when I walked down the steps back toward the trail, I noticed an etching in the rock that said, "Do more than just exist."
"Do more than just exist."  I imagined a hang glider pilot scraping it into the side of the slab while waiting her or his turn to launch themselves like Icarus over the green-checkered valley, almost two-thousand feet below.
"Do more than just exist."  For the more-than-five-months I was on the Appalachian Trail, surely I was doing that.  But, as the author Lindsay Eagar wrote, ""It is a big world, full of things that steal your breath and fill your belly with fire…But where you go when you leave isn't as important as where you go when you come home."
The Appalachian Trail is an example of a big adventure, but — as I wrote in yesterday's post:
along the way I met people who were going on their own adventures every day — maybe not as grand, but definitely no less important: a father taking his daughter to her first national park; an elderly lady trying to continue her deceased husband's stamp collection; a woman on a strange quest to slowly, but surely, visit every cemetery in Virginia.

And that got me thinking.  I don't want adventures to be something I do once every few years.  I know it sounds cheesy, but I want adventures to be something I do every day.
Too often I think of adventures as something I have to go far away to do.  I've never been to Alaska — what an adventure that'd be!  But I've lived in New Orleans for 8 1/2 years and there's so much I haven't done and learned here.
Why are there so many churches on Burgundy Street?  Is Laborde Mountain the highest point in New Orleans and how did it get there?  Why did so many Sicilians come to New Orleans, and where's the best pizza in the city now?  Did Babe Ruth really go to what is, now, 12 Mile Limit?  Why are there so many taco places near the corner of Carrollton and Canal??  WHAT'S DUTCH ALLEY?  Did New Orleans have a Chinatown?  Why do we have so many Tiki bars?  Why does France Street keep cracking into what looks like railroad tracks?  What the hell happens in Gert Town?
Sorry, this is starting to sound like Ariel in the Little Mermaid.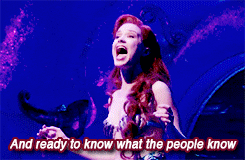 But hopefully you get it.  And I'm sure someone already knows these answers.  Probably Richard Campanella,  But I'd guess most people don't.  I know I don't.  And I'm curious.
I'm not just going to do it and say, "Look at this cool thing I did!" I'm going to do at least a little research beforehand for historical context, as well as — whenever possible — interview people who know a lot more than I do.  (As long as there are people, this will be possible.)
The first adventure will be on December 31st, and the first post about it will be on January 1st.  That will be the first of 365 adventures — one for each day of the year!
Tomorrow, I'm going to list a bunch of ideas I already have, and will ask for your suggestions in the comment section.  Feel free to start now if you feel inspired.  I'm off to a good start, but there's no way I'm getting to 365 without some help.
Thanks for reading and please follow/like my pages on Facebook, Twitter, or Instagram.  And, if you haven't already done so, please sign up for my newsletter!
See you tomorrow!